Many Americans swear by herbal supplements, and we believe there's good reason for their enthusiasm. Even though the data aren't rock-solid yet, there's no doubt that many herbal supplements can deliver strong benefits. But they also carry dangers, and that's where we get a bit anxious about the fervor over these au naturel treatments.

In fact, we prefer to call herbal supplements by another name. One that's more accurate. We call them drugs.

Several herbs are potent substances that can cause strong effects in the body -- desired and not. Even if they don't pose a danger by themselves, herbs can affect the absorption, circulation, metabolism, or excretion of other substances in the body -- such as prescription medicines.

For example, taking St. John's wort -- a popular supplement that some research suggests may alleviate symptoms of depression -- can accelerate the metabolism of birth control pills. In other words, taking St. John's wort as a happy pill may lead to a little unexpected bundle of joy.

Further, the safety of mixing common herbal supplements together is still a big question, and we see a lot of patients who eat more herbs in a day than your average locust swarm. These patients are graciously volunteering to be guinea pigs in their own informal clinical studies.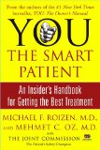 Continue Learning about Dietary Supplements
Whether you're visiting the drug store, grocery or natural food shop you'll likely find an aisle where there are jars and bottles of things for you to put in your body that are neither foods nor medicines. Ranging from vitamins an...
d minerals to fiber and herbal remedies, these supplements are not regulated in the same way as either food or medicine. Some of them are backed by solid research, others are folk remedies or proprietary cures. If your diet does not include enough of certain vitamins or minerals, a supplement may be a good idea. Natural treatment for conditions like constipation may be effective. But because these substances are unregulated, it is always a good idea to educate yourself about the products and to use common sense when taking them. This is even more true if you are pregnant or taking a medicine that may be affected by supplements.
More