Chocolate is available in many different forms, but the food and drug administration (FDA) has a classification system based upon the percentage of key ingredients in chocolate products:
Unsweetened or baking chocolate: The most basic chocolate product, this is simply the hardened chocolate liquor made from the cacao beans' ground nibs.
Semisweet chocolate: Called bittersweet chocolate in Europe, semisweet chocolate must contain at least 35 percent chocolate liquor, but it also contains sugar, added cocoa butter, vanilla, and other flavorings, and may contain lecithin as an emulsifier.
Sweet chocolate: A dark chocolate, this contains at least 15 percent chocolate liquor, flavorings, and more sugar than semisweet chocolate.
Mexican chocolate: Grainier than other forms, this sweet chocolate is flavored with cinnamon, almonds, and vanilla. Found in some grocery stores and specialty shops, Mexican chocolate is sold in squares.
Milk chocolate: Semisweet or sweet chocolate to which dry milk has been added, milk chocolate must contain a minimum of 10 percent chocolate liquor and 12 percent milk solids, along with sugar, cocoa butter, vanilla, and/or other flavorings. Milk chocolate is sold as bars and candies.
Cocoa powder: Dried, powdered chocolate liquor that contains 10 to 22 percent cocoa butter is classified as cocoa powder.
Dutch-process cocoa powder: Darker in color and mellower in flavor than regular cocoa powder, Dutch-process cocoa powder (also called European-style cocoa) is treated with alkali to neutralize cocoa's natural acidity and make it more soluble.
Liquid chocolate: This is a mixture of unsweetened cocoa powder and vegetable oil. Developed for convenience in baking since it does not require melting, liquid chocolate comes in 1 oz. packages.
Couverture: A very glossy, dark coating chocolate that contains a minimum of 32 percent cocoa butter defines couverture.
White chocolate: A mixture of sugar, cocoa butter, milk solids, lecithin, and vanilla produces white chocolate. Since it contains no chocolate liquor, it provides none of the beneficial flavonoids found in other chocolates.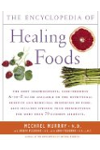 More About this Book
Encyclopedia of Healing Foods
From the bestselling authors of The Encyclopedia of Natural Medicine, the most comprehensive and practical guide available to the nutritional benefits and medicinal properties of virtually everything...
Continue Learning about Dietary Supplements