Planning ahead can be central to eating healthfully. Most live very busy lives so without creating a framework for eating healthfully, doing so can be an incredible challenge. Most people's work lives involve planning, getting kids to and from school, playdates and sports require planning. Well, so does food from shopping to preparing and sharing meals. I offer some great tips in my upcoming book
What The Fork Are You Eating?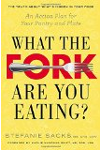 More About this Book
What the Fork Are You Eating?: An Action Plan for Your Pantry and Plate
It's labeled "natural," "grass-fed," or "free-roaming;" yet it might be anything but. It's time to find out what you're actually eating... When your groceries are labeled "low-fat," "sugar-free," and even "natural" and "antibiotic-free," it's easy to assume that you're making healthy choices. Yet even some of those seemingly wholesome offerings contain chemical preservatives, pesticides, and artificial flavors and coloring that negatively affect your health. In What the Fork Are You Eating?, a practical guide written by certified chef and nutritionist Stefanie Sacks, MS, CNS, CDN, we learn exactly what the most offensive ingredients in our food are and how we can remove (or at least minimize) them in our diets. Sacks gives us an aisle-by-aisle rundown of how to shop for healthier items and create simple, nutritious, and delicious meals, including fifty original recipes.  
Whether you can plan for a whole week or just one day, by having your menu decided ahead of time you lower your risk of ending up at a fast-food joint hungry and giving into temptation. I've let go of the perfectionistic idea that the entire week must be planned in advance, and I allow myself to go to the grocery store with a mission in mind. I'm able to buy what I need for the immediate demands and find that I feel a sense of satisfaction and mastery. This allows me to build on that success, rather than feeling defeated!
Continue Learning about Diet & Nutrition