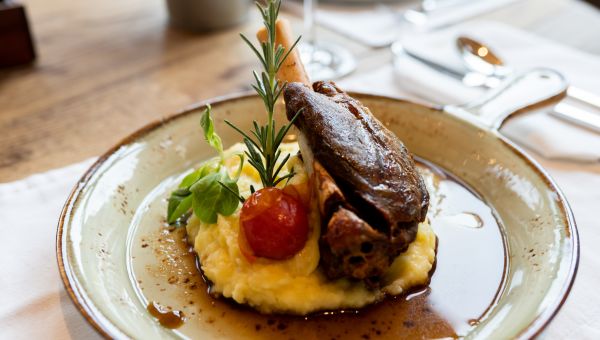 Lamb chops or pork chops, bison burgers or veal breast, round roast or porterhouse steak? Sure, you know meat's high in cholesterol and saturated fat, and that it's less healthful than fish and poultry, but what if you really, really need to tear into some red meat now and then? Use this guide to find the slimmest, trimmest cuts and kinds. Now enjoy not just the flavors but also the health benefits: Most meat is rich in top-quality protein, iron, zinc, vitamin B12, and other nutrients that aren't easy to get elsewhere.
What's the Leanest Meat of All?
We hope you're ready to expand your dinner horizons, because bison (or buffalo) is the big winner. (Deer and elk are right on its hooves, er, heels.) Believe it or not, bison has slightly less fat and fewer calories (2 grams and 122 calories per 3-ounce serving) than skinless light-meat chicken (3 grams and 144 calories). Plus, it's a terrific source of protein (24 grams) and iron. The taste? Similar to beef, though slightly sweeter and richer. Bonus: With bison (wild game, too), you aren't exposed to the cancer-linked growth hormones and antibiotics often administered to farm-raised cows.
Things That Go "Mooo!"
Beef and veal are skinniest when they're loin or round cuts, such as beef bottom sirloin (6 grams fat, 150 calories) and top round veal (3 grams fat, 128 calories). Avoid veal cutlets and breast meat.
If You Prefer Pork...
Choose leg cuts, such as ham, or loin, as in boneless sirloin pork chops or top loin chops (both have about 7 grams of fat and 170 calories).
Lamb Lovers
Try cuts from the shank half of the leg (if labels aren't clear, ask the butcher). Well-trimmed shank-half cuts have 5–6 grams of fat and about 155 calories per serving. So what's the reward for becoming your butcher's new best friend? Eating a low-fat diet -- and eating healthful unsaturated fats when you do eat fat -- can make your RealAge as much as 6 years younger.
Cravin' bacon? Fake it with these healthy substitutes.