Fats are so powerful for brain function. Besides getting your metabolism straight, healthy fats really get your brain straight. Most people walk around feeling sluggish, and have brain fog and trouble focusing and concentrating. When you, add fats to your diet, your brain wakes up because your brain is made up of 60% fat. In fact, much of the brain is omega 3 fats. When you start to increase fat, your brain loves it. In fact, it runs better, in some ways.

We know that in certain brain diseases, like epilepsy, 70% fat (or ketogenic) diets help control seizures when nothing else works. We're using these diets even in things like Alzheimer's disease and brain cancer to help the brain work better. This research is ongoing, even with schizophrenia, to see if it can help reset the brain. It's fascinating research. I think we are going to learn more and more about the connection. But, fat is great for your brain.
High-fat fish such as salmon are called brain food for a reason. Fats don't just add cushion and warmth; they are necessary for energy production, and even for your sanity. About two-thirds of our brains are composed of fat, and the protective sheath around communicating neurons is 70 percent fat. So in a sense we need fat to think and to maintain healthy brain function, which in turn help us to feel balanced; in particular, the class of essential fatty acids called the omega-3s and omega-6s play a crucial role in brain function as well as normal growth and development.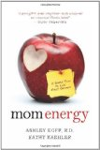 More About this Book
Mom Energy: A Simple Plan to Live Fully Charged
       From celebrated dietitian Ashley Koff and fitness trainer to the stars Kathy Kaehler comes Mom Energy, an exciting new way for moms to tap into their own natural and renewable sources of...
Good dietary fat is a rich source of energy for the cells in our brains, which along with exercise can stimulate the growth of new brain cells and improve memory. Watch neurologist David Perlmutter, MD, explain how eating fat improves brain function.
Continue Learning about Diet & Nervous System