Oxytocin is a powerful chemical that makes you feel intimacy and community. Oxytocin - and really the entire symphony of brain chemicals influencing love - is one reason why 99 percent of humans live in pair bonds. That's not only marriage, but any intimate relationship with one strong partner, be it a spouse, a significant other, a parent, sibling, a close friend, or your cat (women desire this community feeling more than men). From a survival-of-the-species point of view, it's important that we live in communities - hence the evolution of these biochemical effects.
When dopamine levels begin to drop after the early thrill of romantic love begins to wane, oxytocin can keep a couple close. And without it, there can be little biological incentive to stay in a relationship. When apparently unromantic researchers blocked oxytocin in prairie voles (animals that mate for life), those little buggers got right out of their holes, gathered up their music collections, and moved on out. No oxytocin, no intimacy, no lifelong love. Oxytocin, by the way, is also increased by talking. Maybe that's why communication is so important in relationships.
Nevertheless, after around four years, the chemical tide that drives human to stick together starts to recede. The timing isn't a coincidence since the potentially created offspring will no longer be entirely dependent on the mother, leaving her better able to provide for herself and her children. Without chemical handcuffs, the fathers are more prone to leave, which is why the relationship needs to move from being purely romantic to a deeper level of beauty to create a fertile field for lifelong pair bonding.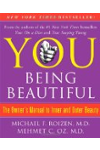 Continue Learning about Diagnostic Agent