In a nutshell, it is a blood test that is used to get an overall measure of how good or bad your blood sugar control is over a three-month period. The bottom line is that the better your blood sugar is controlled, the fewer complications you will suffer. The test, sometimes called HbA1c—or the glycated hemoglobin test to its friends—is the best tool we've got to see if your eating, activity patterns, and your medications are appropriate for your personal diabetes at a given time. It is not perfect (what is?) but it also lets us compare apples to apples. Changes in A1C over several test periods tell us if your diabetes is stable, getting better, or getting worse.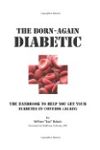 The A1C test, also reported as estimated average glucose (eAG) can be done in a laboratory or office or with a mail-in kit you do at home. Blood is collected from a fingerstick or vein. The test measures the concentration of hemoglobin molecules that have glucose attached to them.
This tells you what your estimated average blood glucose level was over the past 2 to 3 months. It also tells you your level of risk for the long-term complications of diabetes.

Continue Learning about Diabetes
Diabetes mellitus (MEL-ih-tus), often referred to as diabetes, is characterized by high blood glucose (sugar) levels that result from the body's inability to produce enough insulin and/or effectively utilize the insulin. Diabetes ...
is a serious, life-long condition and the sixth leading cause of death in the United States. Diabetes is a disorder of metabolism (the body's way of digesting food and converting it into energy). There are three forms of diabetes. Type 1 diabetes is an autoimmune disease that accounts for five- to 10-percent of all diagnosed cases of diabetes. Type 2 diabetes may account for 90- to 95-percent of all diagnosed cases. The third type of diabetes occurs in pregnancy and is referred to as gestational diabetes. Left untreated, gestational diabetes can cause health issues for pregnant women and their babies. People with diabetes can take preventive steps to control this disease and decrease the risk of further complications.
More