Americans are becoming more sleep-deprived, and it's taking a toll on our health -- and our waistlines. A poll by the National Sleep Foundation showed that the number of Americans who sleep less than six hours a night jumped from 13 percent in 2001 to 20 percent in 2009, and those who reported sleeping eight hours or more dropped from 38 percent to 28 percent in the same time period. New research at the University of Buffalo in New York found that study participants who averaged less than six hours of sleep per night, compared to those who got six to eight hours, were nearly five times as likely to develop prediabetes. In addition, an analysis of recent studies suggests that sleep deprivation makes it harder to control appetite because leptin (one of the hormones that signals that you've had enough to eat) levels drop, while ghrelin (a hormone that stimulates hunger) levels rise, creating a double-whammy diet buster.
But it's not just the lack of sleep that increases diabetes risk, it's the quality of the sleep you get, too. A study from the University of Chicago found that after just three nights of disturbed sleep (think: pets scurrying in your bedroom, a snoring partner, children waking you in the night), insulin sensitivity decreased in study participants; this change had the same metabolic effect as gaining 20 to 30 pounds. And that's in people without diabetes or prediabetes.
If you have diabetes, logging enough quality shut-eye is important because sleep appears to moderate the hormones that regulate blood glucose, and losing out can contribute to elevated hemoglobin A1c levels in people with the disease. In fact, a 2006 University of Chicago study found a clear association between poor quality and quantity of sleep and reduced blood sugar control. As many people with diabetes can attest, sleep is often interrupted in the night because of frequent trips to the bathroom or nerve pain. Obstructive sleep apnea, when breathing stops during sleeping, is a condition that is frequently associated with diabetes and obesity; however, studies show that when obstructive sleep apnea is treated with continuous positive airway pressure (CPAP; a device that helps keep airways open so you can breathe more easily), overnight blood glucose levels are stabilized.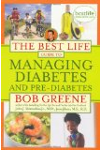 Continue Learning about Diabetes