Your body carefully regulates your blood glucose levels while you sleep, so you don't experience a drop in blood sugar levels even though you've fasted for 7 or 8 hours. If you lay down for 7 or 8 hours, don't eat, and stay awake, your blood sugar levels will drop. While you sleep, your body carefully adjusts sugar levels, changing your metabolism when you're in light and deep stages of sleep. Sleep restriction harms your body's natural ability to properly regulate blood sugar levels. Changes in metabolic hormones in people who have chronic sleep deprivation may result in increased risk for insulin resistance and diabetes.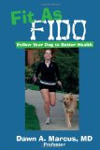 More About this Book
Fit As Fido: Follow Your Dog to Better Health
Let your dog teach you to live a happier, healthier, and more fulfilling life! Companionship with your pet can be used as a means and a motivator to increase your own physical and mental fitness....
Continue Learning about Diabetes
Diabetes mellitus (MEL-ih-tus), often referred to as diabetes, is characterized by high blood glucose (sugar) levels that result from the body's inability to produce enough insulin and/or effectively utilize the insulin. Diabetes ...
is a serious, life-long condition and the sixth leading cause of death in the United States. Diabetes is a disorder of metabolism (the body's way of digesting food and converting it into energy). There are three forms of diabetes. Type 1 diabetes is an autoimmune disease that accounts for five- to 10-percent of all diagnosed cases of diabetes. Type 2 diabetes may account for 90- to 95-percent of all diagnosed cases. The third type of diabetes occurs in pregnancy and is referred to as gestational diabetes. Left untreated, gestational diabetes can cause health issues for pregnant women and their babies. People with diabetes can take preventive steps to control this disease and decrease the risk of further complications.
More