When you have diabetes, you don't have to go it alone. Your family can help. To find out how, watch this video featuring Eliot LeBow, a psychotherapist who specializes in diabetes.
Being diagnosed with diabetes is life altering—not just for the person with diabetes, but also for loved ones and caregivers. Those we love don't always react to our diabetes the way that we hope they will. Some rise to the occasion and surpass our expectations, and others fall short. Having support from your partner can make a big difference in how well you cope with the challenges of diabetes. If your needs aren't being met, let your partner know and discuss changes. Set aside time to be together without talking about diabetes. Seek additional support, so your spouse isn't your only sounding board.
Families can help or hinder your management of diabetes. In this video, Ronald Tamler, MD, clinical director of the Mount Sinai Diabetes Center, explains why it's important for them to learn about the disease when you do.
Let your family know how they can best help you. For example, maybe your spouse will help prepare healthy meals or go for a walk with you after dinner. Ask your family to keep tempting snacks out of your sight. It can also be helpful to involve your family in your diabetes visits. Bring your spouse to a visit with your dietitian or to a diabetes class. They'll have a better understanding of what diabetes is all about and they'll feel more comfortable supporting you.
Your family and friends can be your most important support system because they care about you. But they cannot help you with diabetes unless they understand diabetes and you tell them what you want from them. As a first step, each family member needs to understand what diabetes is, how it is managed and how to handle emergencies.
Most people who care about you will want to know how diabetes affects you. They may have many questions or worries. You can teach them what you know about your diabetes so you can avoid misunderstandings. On the other hand, you may need to let your friends or family know when you can manage things yourself. Open communication will help.
Sometimes problems arise among family members when they don't really understand the disease. If your teenager is grumpy because he has to wait for you to take an insulin shot before you drive him to the mall, it may be because he doesn't understand how important it is. If your spouse is waving potato chips under your nose when you are trying to cut back, she may not understand the importance of your goal to eat healthily.
In the case of an emergency, make sure your family members can ­recognize the signs of hypoglycemia and know how to deal with it.
Depending on your family, you can expect different re­sponses to your diabetes and different levels of enthusiasm for helping you work toward your food and exercise goals. Some may join in wholeheartedly, looking at this as a team effort. Other families or family members may resent making changes when they aren't the one who is sick. You need to find the approach that works best for you. In some situations, you may be better off if you go it alone.
Your family is going to be either the best medicine for your diabetes or the worst medicine for your diabetes. They really need to be on board.
Most people with diabetes eat with their loved ones. The good news here is that eating healthy for diabetes is also just plain eating healthy for anyone. The problem is, that may not be the way they are used to eating. Or how they want to eat. If your family eats differently from you, all kinds of bad things can come of it. Beyond food, having the support and encouragement of your loved ones is a big help.
My advice? Talk, talk and talk again. Communicate what you need and what you don't need from them. They don't have crystal balls. They don't know what you need until you tell them.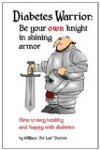 Continue Learning about Diabetes