Yes, it's possible, but not very likely. If your blood sugars have been high for several years and the sugars were higher than they are now, that could have injured the nerve in your back.

However, I suspect there is some other reason. When diabetes affects the nerves, it usually takes many years of high blood sugars to cause symptoms. And the most common type of nerve damage from diabetes is peripheral neuropathy. This is pain, tingling or numbness that first occurs in the feet.

Since your pain is in your upper back, you should consider other reasons for your pain. Perhaps the pain is not nerve related.

If the pain is clearly nerve pain (doctors call this neuralgia), then the most common cause is an irritation or pinching of the nerve at the place where the nerve comes out of the spine. The medical term for this type of neuralgia is radiculopathy.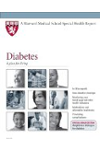 More About this Book
Harvard Medical School Diabetes: A plan for living
Nearly 24 million Americans roughly one of every 13 people have diabetes, a disease marked by high levels of sugar in the blood. More than 90% of them have type 2 diabetes, which occurs when the body...
Continue Learning about Diabetes