The finger is usually where you collect your blood sample. If you do it right, you'll feel just a little pressure but no pain. Here's the technique: Place your hand on a firm surface such as a tabletop with your palm facing up. This will prevent you from unconsciously pulling away as you are about to stick your finger. Dial the lancet device -- a penlike instrument containing a lancet, a sharp, disposable needle -- to the lowest level (with the least penetration). Push the lancet device firmly into your finger, stretching the skin tight like a drum. This will allow it to pierce your skin without going very deep, and the pressure will push up a drop of blood. Many people have told us that this method causes them almost no pain. If the lowest setting doesn't pierce the skin, try the next to lowest, and so on.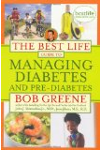 Continue Learning about Diabetes
Diabetes mellitus (MEL-ih-tus), often referred to as diabetes, is characterized by high blood glucose (sugar) levels that result from the body's inability to produce enough insulin and/or effectively utilize the insulin. Diabetes ...
is a serious, life-long condition and the sixth leading cause of death in the United States. Diabetes is a disorder of metabolism (the body's way of digesting food and converting it into energy). There are three forms of diabetes. Type 1 diabetes is an autoimmune disease that accounts for five- to 10-percent of all diagnosed cases of diabetes. Type 2 diabetes may account for 90- to 95-percent of all diagnosed cases. The third type of diabetes occurs in pregnancy and is referred to as gestational diabetes. Left untreated, gestational diabetes can cause health issues for pregnant women and their babies. People with diabetes can take preventive steps to control this disease and decrease the risk of further complications.
More