The landmark Nurses' Health Study found that the nurses who ate the most sugars and refined carbohydrates and the least whole grains had a two and a half times greater risk of developing type 2 diabetes. Those who ate the most whole grains (7.5 grams per day -- which is the equivalent of a bowl of oatmeal and two slices of whole-wheat bread) were 30% less likely to develop type 2 diabetes. Recent studies show that whole grains keep your blood sugar on track, reducing your risk of developing diabetes.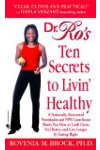 More About this Book
Dr. Ro's Ten Secrets to Livin' Healthy
In this one-of-a-kind book, Dr. Rovenia M. Brock—known as Dr. Ro™ to fans of Black Entertainment Television's Heart & Soul—reveals practical, satisfying ways for African American women to eat...
Continue Learning about Diabetes Prevention