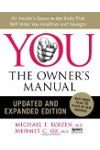 Diabetes can dump a big sack of trouble on you, since it can lead to so many health issues. There are many problems associated with diabetes, including frequent urination, fatigue, impotence, nerve dysfunction, numbness, and even the development of vision problems that can cause blindness.

Diabetes is a big contributor to accelerated arterial aging -- and that, in turn, can lead to a multitude of conditions and ailments-including heart attacks and stroke. This is one reason that keeping your blood pressure under control if you're a diabetic (and if you're not, as well) is so important.

Although a dangerous diagnosis, diabetes is one of those conditions that is a perfect example of what you can do to help yourself. Diabetes can steal one-third of your life, but if you do three things-control your blood pressure, walk 30 minutes a day, and control your blood sugar-the disease won't age you at all.