When the kidneys start to fail from high blood sugar, the first thing that slips through is microalbumin; which are little tiny protein molecules. We can test your urine to see if microalbumin is spilling through the kidneys.

That is the early warning sign. There is still time to change. Once full-sized proteins show up in the urine the possibility of dialysis is very, very, very real. Diabetic kidney trouble is called nephropathy.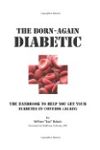 The earliest sign of diabetic kidney disease is an increased excretion of a protein called albumin in the urine. This is present long before the usual tests done in your doctor's office show evidence of kidney disease, so it is important for you to have this test on a yearly basis. Other warning signs include: weight gain, ankle swelling, frequent trips to the bathroom at night and high blood pressure. Your blood pressure may get too high. As a person with diabetes, you should have your blood, urine and blood pressure checked at least once a year. This will lead to better control of your disease and early treatment of high blood pressure and kidney disease. Maintaining control of your diabetes can lower your risk of developing severe kidney disease.
Continue Learning about Diabetes Complications