One thing you can do to maintain your happiness is to form a study group. This will accomplish two things. First, you will bring your struggle out of the darkness if you have felt alone in your depression. Second, you can support each other in your efforts to keep the focus positive and find the gifts of your depression. Listening to your pain while accepting your happiness is not an easy path to stay on, and the people in your support group can help you by providing feedback if you go too far in one direction or another. Others can point out if you are not listening to your pain, or if you are not giving yourself full permission to experience the happiness of healing your life.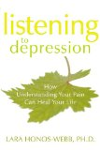 Peer support groups, or group meetings with other people with depression, can be helpful for some people. These groups, especially when well run and organized, provide insight into day-to-day coping with the disorder. Research has shown these groups to be helpful in particular areas, such as providing support, helping participants cope with problems and crises, and enabling participants to stick to treatment plans. However, a systematic review found that more research is needed to fully understand and evaluate what conditions make these groups effective. Currently most existing peer-to-peer communities have been evaluated only in conjunction with additional interventions and interactions with healthcare professionals that coincide with participation in support groups.
To locate a peer support group for depression, consult referral hotlines of professional organizations, including your state, regional or provincial mental health association. Another possibility is a peer support group on the internet. Currently, there are multiple organizations running these groups, reaching across the world. Although peer support groups are not for everyone, participation may make you feel less isolated and alone, and provide you with an opportunity to see how others with the disorder are successfully managing their lives. They also offer structured activities to cope with your illness.
It's hard to connect with friends and family when you're recovering from major depression, but social isolation is a major contributor to depression, so it's vital to have a support network of people you can talk to. You need an outlet and sounding board for your thoughts and feelings. Friends and family can help you see yourself more clearly and point out irrational beliefs as well as successes. Secure, stable relationships are the foundation for healing, but building trusting friendships takes time. Is there anyone in your life with whom you can develop a closer friendship? If not, or if you're just not ready, consider joining a depression support group or talking to a counselor. Volunteering can also provide you with a source of social support.
Continue Learning about Depression