Depression carries with it some very intense and difficult-to-manage emotions. In addition to the normal difficult emotions that all people experience from time to time, such as anger, sadness, disappointment and grief, people with depression can also experience seemingly uncontrollable waves of despair, overwhelming anguish, the urge to harm themselves or others and other intensely negative feelings that, even to the person with depression, may seem out of proportion to the situation.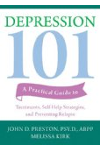 Continue Learning about Depression

Everyone feels "down" at times. Depression is more than occasional blues. When sadness and hopelessness just don't go awaywhen these feelings interfere with your daily life, when they affect your energy, your ability to sleepyou m...
ay need professional help. Depression can become a very serious illnessbut treatment like counseling and medication can help.
More