If left untreated, depression can interfere greatly with the development, well-being, and future health and happiness of your child. Depressive thinking even can become a lasting part of his or her personality and lead to mental disorders in adulthood. Depression can lead to eating or sleep disorders, obesity, substance abuse, and even suicide, which is the second leading cause of adolescent death after motor vehicle accidents.
From Good Kids, Bad Habits: The RealAge Guide to Raising Healthy Children by Jennifer Trachtenberg.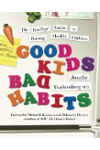 Because bipolar disorder is a lifetime mood disorder, it is important to seek treatment for any depressive episode. If the depression goes low enough, you can be at risk of hallucinations, psychosis, and paranoia—mood states that are extremely serious and require hospitalization for proper treatment. Also, untreated depression increases the chance of suicidal thoughts and actions.
Continue Learning about Depression Treatment