Some people taking medication for depression experience side effects that are often temporary. These include dry mouth, bladder problems, constipation, blurred vision, sexual functioning problems, dizziness, drowsiness, increased heart rate, nausea, nervousness or insomnia, and agitation.
Several years ago, increased suicidal risk was indicated in connection with some antidepressant medications. Many drug makers were required by the US Food and Drug Administration to include a warning on their packaging to monitor for increased suicidal behavior in children, adolescents, and young adults. Since then, studies have indicated that the benefits of these medications in treating depression and anxiety in this population far outweigh the risks. Studies in adults show no increase in suicide risk. Regardless, careful monitoring for suicidal behavior should be part of any treatment plan for depression.
Talking to your healthcare provider is important. Be sure to pay attention and discuss how the medication is making you feel throughout your body, and any changes you are experiencing.
Some of the problems with medications for depression are that:
Improvements from medications are not maintained after the medication is stopped.
More undesirable side effects from medications such as loss of sexual desire among others.
Poor adherence, i.e., clients stop taking medication because of side effects.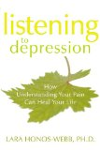 Continue Learning about Depression Treatment