The annual costs associated with major depression in the United States are an estimated $44 to $55 billion, comparable to costs associated with coronary heart disease. It is expected that depression will become the second leading cause of disability worldwide in the next decade and the most costly of all illnesses.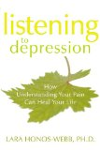 Continue Learning about Depression Treatment

Because it is a multi-faceted condition, treatment for depression is multi-faceted as well. Minor depression can often be treated with therapy and a few simple lifestyle changes, while chronic or major depression treatment can req...
uire medication in addition to therapy. In some severe cases, electroconvulsive therapy (ECT) may be used. It's important to work with your mental health professional to determine which course of treatment for your type of depression is most appropriate.
More