You can seek help for depression from the following sources:
primary healthcare practitioners
psychiatrists in private practice
psychologists in private practice
therapists and other mental health specialists
employee assistance programs (EAPs) at your worksite
health maintenance organizations (HMOs)
community mental health centers
hospital-based departments of psychiatry
outpatient psychiatric clinics
university- or medical school-affiliated mental health programs
state hospital outpatient clinics
family services or social services agencies
private clinics and facilities
If you feel depression is a concern, see a qualified mental health specialist. Studies show that up to 85 percent of patients will find relief through treatment with antidepressant medications, psychotherapy, or with electroshock therapy. Again, if you are having suicidal thoughts, take these seriously and seek professional help.
Keep in mind that alcohol and drugs cannot combat depression. While the medication your doctor prescribes is specially formulated to balance your body's chemicals, alcohol and other drugs may worsen your situation. Make sure that you only use medication prescribed by your physician.
Exercise is a great cure for easing mild depression. Determine what you can do physically and start a program. Physical activities can increase mental alertness and increase the endorphins (the body's natural opiates), which will give you a calming, contented feeling. Be sure to stick to a routine each day. Staying in bed all day unless advised by your doctor cannot help you alleviate the depressive feelings. Also, consider reaching out to others to get out of your own problems. This may help reduce feelings and actions such as brooding, moping, or too much self-introspection.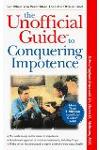 More About this Book
Unofficial Guide to Impotence
The Unofficial Guide to Conquering Impotence delivers the inside scoop on impotence: the truth about Viagra, what treatments really work, and how lifestyle changes can aid in conquering...
Your family doctor can prescribe medication for depression. You can also go to a psychiatrist if you are looking for a medication to help with depression.
Medication in combination with counseling is considered to be an effective treatment for depression. Cognitive Behavioral Therapy and Mindfulness Based Cognitive Therapy are considered excellent approaches to treating depression.
A very good way to find a therapist or counselor that uses these approaches is to search the internet using the following terms: "counseling (your city)," or "therapy (your city)," or "cognitive behavioral therapy (your city.) For example, if you live in Des Moines, Iowa, you would type [counseling des moines] in the search field.
If you do an internet search, you will have many search results. You will be able to find a counselor/therapist who will meet your needs.
Below are some people and places that can help you get treatment.
Family doctor
Counselors or social workers
Family service, social service agencies, or clergy person
Employee assistance programs (EAP)
Psychologists and psychiatrists
If you are unsure where to go for help, check the Yellow Pages under "mental health," "health," "social services," "suicide prevention," "crisis intervention services," "hotlines," "hospitals," or "physicians" for phone numbers and addresses.
This answer is based on source information from National Women's Health Information Center.
Continue Learning about Depression Treatment

Because it is a multi-faceted condition, treatment for depression is multi-faceted as well. Minor depression can often be treated with therapy and a few simple lifestyle changes, while chronic or major depression treatment can req...
uire medication in addition to therapy. In some severe cases, electroconvulsive therapy (ECT) may be used. It's important to work with your mental health professional to determine which course of treatment for your type of depression is most appropriate.
More