As noted psychiatrist David Burns frequently says, depression may feel hopeless, but treatments for depression are generally very effective. The major roadblock to overcoming depression is depression itself: the feelings of pessimism that are a hallmark of depression lead many sufferers to stop dead in their tracks and conclude, "Nothing can help me." Action is the antidote for powerlessness.

Many self-help strategies are strongly supported in research as being effective in treating depression. However, it is important to be realistic and honest about this. Often, self-help strategies are not possible if a person is too debilitated by depression. If you find that you are unable to get started with many of the self-help approaches available to you, there are two practical choices you can make. First, you can enlist the help of a close friend or family member to help you get started on and follow through with treatment suggestions. Alternatively, you can make what may be a life-saving decision to seek professional treatment; for many people, self-help approaches are only doable once they have received some improvement from professional treatment.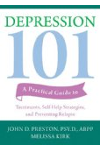 Continue Learning about Depression Treatment

Because it is a multi-faceted condition, treatment for depression is multi-faceted as well. Minor depression can often be treated with therapy and a few simple lifestyle changes, while chronic or major depression treatment can req...
uire medication in addition to therapy. In some severe cases, electroconvulsive therapy (ECT) may be used. It's important to work with your mental health professional to determine which course of treatment for your type of depression is most appropriate.
More