Depression helps you shift away from taking care of others and toward taking care of yourself. As you withdraw your life energy from your current life, you may find that your family members, friends, and mental health providers become very worried about you. They don't see that on the other side of this withdrawal is a new life course. However, once you understand depression as a way of changing the course of your life, it makes sense that you would need to withdraw, or retreat, from your daily life, so that you can connect with who and what you are.

Richard Bach has said that "what the caterpillar calls the end of the world, the master calls a butterfly." Richard Bach describes cocooning, or what we are calling a retreat, as the vehicle for a transformation. To the caterpillar, retreating into the dark and limited cocoon may indeed seem like the end of the world. Inside, it is cut off from its familiar world so that it may experience a total transformation.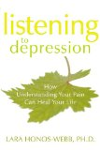 Continue Learning about Living With Depression

Living with depression can feel like a challenge, but with the right tools, you can learn to successfully manage your condition. It's important to follow the recommendations of your primary healthcare provider, take any depression ...
medication as prescribed and utilize the social supports around you. It's also important to eat well, get enough sleep, exercise and keep track of your depression symptoms.
More