One way to remind yourself to stay on track with your recovery goals is to write down your personal goals and post them where you'll see them every day. Use places like your bathroom mirror, your refrigerator door or somewhere near your computer screen at work. Once you've found some techniques that work to alleviate your depression, write a list of your new habits and set goals for how often you want to do them. For example, if you find that taking your medications regularly, seeing a therapist once a week, staying socially active and exercising regularly all makes you feel better, you might write a list that looks like this:
Take my medications every day, as prescribed.
See my therapist once a week. If I have to cancel, reschedule immediately.
Plan to go out with friends or to a group event twice a week (plan this each Monday during my scheduling session).
Hike or walk at least two hours each weekend and bike for at least an hour, three days a week, after work.
Then post the list, or even multiple copies of it, where you'll see it every day. If you're working with a support person, you might also give that person a copy and ask him or her to question you regularly about how meeting your weekly goals is going.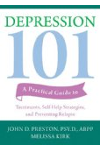 One of the symptoms of depression is that it keeps you focused on the bad things in your life and it often prevents you from seeing the positive things in your life. You may be depressed, but that is not all that you are.
1. In your journal, explore the following questions:
What else are you?
What strengths do you have that the depression has not overshadowed?
For example, you might write, "I am depressed, but I am also a mother" or "I am a professional." In reflecting on your strengths, you might write, "I am still a wonderful cook," or "I have overcome many difficulties in my life and therefore am strong and courageous."
2. After completing step 1, at the top of an empty journal page write the following heading: "Resources for Coping with Depression." Sometimes it can be helpful to simply accept the reality of your depression. The strategies people use to self-medicate or deny a depression often cause more problems, complicating the existing depression. To help you stay aware of your choices and supports that can keep you from self-medicating or denying your depression, you might want to complete the following sentence stems to guide your reflections:
"I am depressed, but one resource for helping me through the depression is:" (List as many resources as possible.)
"I am depressed, but I can reach out for help. The following people can support me through this depression:" (List as many people as possible.)
"I am depressed, but one quality about myself that will help me through this depression is:" (List as many qualities as possible.)
"Even though I am depressed, I will not fall back on the self-destructive habit of (--) to cope with this depression."
"I am depressed, but there are many professionals who are trained to help people who are struggling like I am. The following professionals can guide me through this difficult time:" (List as many professionals as possible, such as a psychotherapist, a psychiatrist, a primary care doctor, an energy healer, a naturopath, or other provider.)
"The family members who will be the most useful in helping me cope with depression are:"
"The family members who will be least helpful during my depression are: (--) and I may consider setting strong boundaries with these people until I recover from this depression."
"The things I can do that will help me cope with this depression are:" (List as many activities as possible.)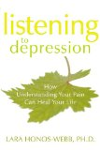 Continue Learning about Living With Depression