If you are feeling worthless and depressed, try this exercise:
Take note the next time you feel worthless. Observe what you do with the feeling and what it makes you think and do. Write your observations in a journal.
Next time you feel worthless, interpret this feeling as a signal to search for activities that are taking up your time but are not in line with your ultimate worth and therefore are not inherently meaningful. Write a list of your mental or physical activities that are not moving you toward what you really want out of life.
After identifying activities that are not worthwhile, ask yourself, "What would I spend my time on if I wasn't wasting it on all these other distractions?" Make a list of all the activities that seem meaningful to you and would move you toward spending your time in ways appropriate to your ultimate worth.
Develop an action plan to reorganize your time so that you spend less time on the worthless activities and more time on the meaningful activities. Write in your journal any positive outcomes that result.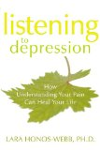 Continue Learning about Living With Depression