For starters, depression is tied to an increased rate of arterial and cardiovascular aging. In a study done at Duke University, men and women who had heart disease and depression had a 69 percent higher rate of deaths from heart disease over the next nineteen years than those who simply had heart disease and no depression. In the Alameda County study, depressed individuals had a 54 percent increase in stroke rate over twenty-nine years. Other smaller studies have reported similar effects of depression to increase arterial aging events, such as impotence, memory loss, heart attacks, and strokes. Also, women suffering from depression have lower bone density, presumably from increased levels of the stress hormone cortisol, which is found in greater quantities in the blood of depressed people. In addition to causing aging directly, the symptoms of depression -- lethargy, sluggishness, a sense that nothing in the world matters -- lead to behaviors that can accelerate aging. Depressed people are less likely to exercise, to eat a healthy diet, or to make any effort towards healthy living at all.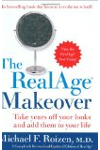 Continue Learning about Depression Complications

Medically untreated depression puts people at higher risk for infectious diseases, type 2 diabetes and heart problems. People who do not seek treatment for depression also fail to thrive in work, home and school settings. It can n...
egatively affect relationships, sleep patterns and libido. In severe cases untreated depression can result in suicide.
More