Thorough investigations have not demonstrated a robust relationship between depression and greatness. The question does not really lend itself to scientific analysis or quantification, because greatness is by definition a rare and improbable event. However, the phrase "tormented genius" does seem to hint that depression goes hand in hand with towering genius.

The label of greatness is usually given to those who have taken on a life-or-death struggle, changed their world in the process, and come through the struggle with dignity. We want our leaders to have the ability to go through the fire and survive. Perhaps this explains our demand for gravitas in our leaders. The word "gravitas" comes from the same Latin root as that of "grief." We sense a sturdiness, a resilience, in those who have grieved and survived. Those who have learned that you can lose so much and continue to live are those we look up to. When we think of gravitas we might also think of gravity -- the force that determines planetary orbits. The more weight a planet has, the stronger is its force to pull other objects into its orbit. So too is the case with personal power and perhaps greatness. The more weight a person has, the more losses she has digested; the more grim realities she has faced and survived, the more wisdom and heft she carries.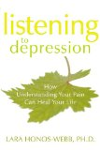 Continue Learning about Depression Causes & Risks

Depression has many possible causes, including grief, trauma, chronic stress and financial troubles. In some instances, it may seem to have no cause at all. Some evidence suggests that factors like genetics, vitamin D deficiencies...
, gender and other medical diagnoses can increase the risk of depression.
More