Expectations of conformity may come from family, friends, peers, media or other larger cultural forces and may cause depression. For example, some women may feel an intense pressure to get married and have children and may never stop to consider whether such a path is really what they want. A woman who is trying to meet cultural expectations at the expense of her own internal desires may fall prey to an insidious depression, which would then provide her with an opportunity to reflect on her own needs.
Another reason you might ignore your own internal signals is that the need for security can overpower your own sense of what is essentially meaningful. You might make career choices solely because of their promise of financial security, for example. The need for security can take other forms, such as staying in relationships that are familiar or safe, or failing to take necessary risks to make one's dreams come true.
You might find your life directed by the need for approval rather than by your own inner values, needs and desires. While it is true that everyone really does need approval and a sense of community, a need for approval that is out of balance can cause you to live your life doing what will make others like you.
Unfortunately, living a life driven by the need for approval often doesn't give you the fulfillment you so fervently hope for. Instead, you end up like a doormat, constantly feeling taken advantage of because of your inability to set limits. You lose the respect of others rather than winning their approval.
You may find yourself angry at the very people whose needs you are catering to. This anger creates a feeling of conflict within you. And the more conflicted you feel, the more afraid you become of expressing your real self. As a result, you may drive your feelings deeper underground, becoming more and more disconnected from who you really are—straying farther and farther from the life you're meant to lead.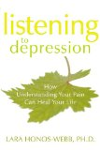 Continue Learning about Depression Causes & Risks