Fabrication of immediate dentures can be accomplished relatively quickly, often within a week or two.

An equally important question maybe, "How long does it take to get used to an immediate denture?" The answer is that it takes a different amount of time for each individual, as the shape of the ridges, ability to adapt and tolerance for the denture in the mouth varies from person to person.

At first your face may show signs that extractions have been performed, the bite may need adjustment, sore spots may need to be relieved and you may require time to adapt to the denture. You should expect that there will be learning period for eating, speaking and wearing the denture.

With an immediate denture there may be post-delivery discomfort and uneven bite that may take time and/or several visits to resolve. Also after healing the denture usually needs to be relined for better adaptation and fit.

It is important to be aware that you are an important part of the success of immediate denture services. Everything may be done with excellence and you may still need time, perseverance and work to adapt to having the denture in your mouth and functioning in a satisfactory manner.

All of these factors need to be considered when asking "How long does getting new dentures take?"
Continue Learning about Dentures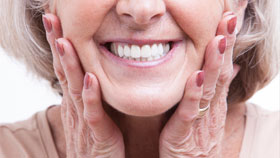 Dentures are false teeth used to replace natural teeth. There are two types of dentures: complete dentures, which can be used for the upper or lower jaw (or both if needed), and partial dentures, which replace only some teeth.