An endosteal implant is a type of material inserted or grafted into tissue. Dental implants are devices specially designed as a dental replacement. This device is placed into the alveolar and basal bone of the mandible or maxilla and transects only one cortical plate.
Endosteal implants are dental implants that are drilled right into your jawbone, a procedure that is considered safe by the American Dental Association (ADA). A post is connected to the endosteal implant after the gum tissue has healed. Then an artificial tooth, or crown, is added to the post. In some cases, a bridge or denture is added to the endosteal implant.

Endosteal implants are placed directly into the jaw bone. The bone area must be sufficient to support the implants in height, width, and length. Endosteal implants can be either blade or root form. The type of endosteal implant selected is based on the amount of bone, the quality of bone, and the patient's expectations of how the final restoration will look, feel and function.
Continue Learning about Dental Implant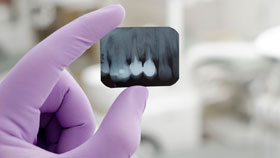 Dental implants are used where there are one or more missing teeth. Implants are posts that are surgically placed in the upper or lower jaw, where they may also function as a sturdy anchor for dentures. Because they fuse with your ...
jawbone, you will still have a certain amount of sensation when you chew and talk, even though you have an artificial tooth.
More