For many years, Titanium dental implants have been the standard for replacing a missing tooth or teeth. The newer Zirconium implants are made of a special ceramic (Zirconium oxide, ZrO2) that has a flexural strength comparable to Titanium. Zirconium implants have been available on the European market for years, and they are now available in the United States. Like Titanium, Zirconium is an inert material with very low allergic potential, meeting the objective of many patients who desire to have absolutely metal-free dentistry. The white color of Zirconium means there is no dark line around the base of the prosthetic tooth. A major reason patients choose Zirconium is its esthetic properties. Because Zirconium retains less plaque and calculus than Titanium, it can contribute to healthier gum tissue. Although Zirconium implants have been proven to have a high level of osseointegration and bone-to-implant contact, there are circumstances under which they are not recommended because the location and angle of the implant demands the superior osseointegration and stability that Titanium provides.
Continue Learning about Dental Implant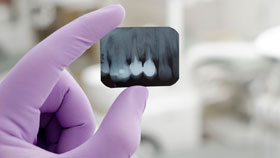 Dental implants are used where there are one or more missing teeth. Implants are posts that are surgically placed in the upper or lower jaw, where they may also function as a sturdy anchor for dentures. Because they fuse with your ...
jawbone, you will still have a certain amount of sensation when you chew and talk, even though you have an artificial tooth.
More