Composite resin dental fillings can usually be completed in one appointment, lasting up to an hour or so depending on the extent of the cavity. Getting a composite resin dental filling takes up to 20 minutes longer than for a silver, or amalgam, filling. That is because the tooth has to stay completely dry while the layers of composite are added to the tooth. Once the composite resin is added, it takes less than a minute to harden with the help of a special light.
Continue Learning about Dental Fillings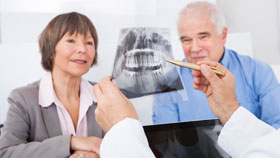 To stop a cavity from expanding and spreading decay, it is necessary to fill the hole with a filling. A dental filling, which may be placed with a variety of materials, such as silver, gold or resin, restores a fractured, chipped, ...
decayed and sometimes worn tooth.
More