While the exact number of people with toothaches in the US is not known, what's known is that tooth decay, which is the most frequent cause of toothache, is the second-most-common problem that children and adults face. (The most common is the common cold.) According to the National Health and Nutrition Examination Survey, more than 90% of adults have had tooth decay. Also, this national survey found that as of 2004, over 20% of adults had tooth decay that had not been treated. These statistics suggest that toothaches due to tooth decay are a common problem for many people.
Continue Learning about Dental Emergency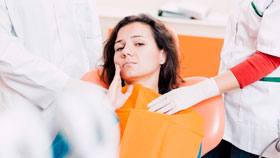 Dental emergencies vary, but they usually involve a broken tooth or some type of severe pain in your mouth. If you think you have a dental emergency, you should contact your dentist immediately. The sooner you take action, the mor...
e likely you are to keep the teeth involved.
More