Dandelion's calorie count is exceptionally low - a cup is only 25 calories, while its nutrient content is exceptionally high. In fact, the dandelion contains greater nutritional value than many other vegetables. It is particularly high in vitamins and minerals, protein, choline, inulin, and pectin. Its carotenoid content is extremely high, as reflected by its high vitamin A content. Dandelion has 14,000 IU of vitamin A per 100 g compared to 11,000 IU for carrots. In addition, dandelion is an excellent source of vitamin C, riboflavin, B6, and thiamine, as well as calcium, copper, manganese, and iron.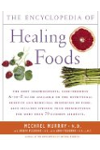 More About this Book
Encyclopedia of Healing Foods
From the bestselling authors of The Encyclopedia of Natural Medicine, the most comprehensive and practical guide available to the nutritional benefits and medicinal properties of virtually everything...
Continue Learning about Dandelion