If your arms get tired before your legs, your bicycle does not fit you properly. Your handlebars can be either too close, too far, or too low. Any of these will put more stress on your arms, shoulders, and neck. A good bike fit a local shop will distribute your weight more evenly over the bike and allow you to ride with a relaxed upper body (which also improves bike handling).
The tightness you're experiencing could very well be related to your positioning on the bike. When you place too much weight on your hands while riding, the muscles of your arms and shoulders are forced to work in stabilizing the excess weight placed on the handle bars. To alleviate this, take some of the weight off of your hands and use your core to stabilize the bike while you're riding. You should be able to ride with your hands only keeping the handlebars steady.
Although cycling is a great exercise, it does put your body in an unnatural posture. When you are on a bike your back becomes rounded, your arms are at about 100 degrees of shoulder flexion and horizontal adduction, & 90 degrees of elbow flexion. Your neck is also at a extended position especially when your in a racing posture. As a result of long hours in these upper extremity postures the muscles will actively adapt to a muscle shortened position. I suggest after your bike ride, statically stretch out your pectoral muscles, your posterior cuff of your shoulder and your neck muscles(trapezium, and levator scapule) 30 seconds each muscle group.
Continue Learning about Cycling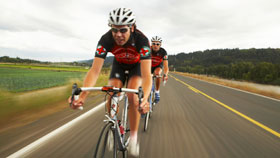 Cycling is one of the best forms of aerobic exercise and doesn't put a lot of stress on your joints. And studies have shown that riding a bike for as little as five minutes a day can help you control your weight. Learn more about ...
cycling from our experts.
More