Lack of predictability is the only thing you can count on in the emergency room (ER). You're probably wondering why someone doesn't come out and at least tell you how much longer it will be until they can see you. The truth is, they'd like to but they can't. They don't really know. Remember, this isn't a restaurant or technical support hotline. The waiting area may be quiet but the back area is probably hopping.
Ambulance entrances are usually out of sight from the main ER entrance and waiting area. At any moment, a critically ill patient could arrive or the condition of a person already being seen could worsen, requiring the attention of most of the emergency medical staff. At the same time, there's a limit to how many people can be seen at one time, and the people already back there are being treated. You've just got to trust that you'll be called when a spot is available. After all, waiting is good! The person you have to feel sorry for is the one rushed in ahead of you.
Standing and staring at staff trying to intimidate them will not get you seen faster. So lighten up! Laugh a little and tell some jokes. It won't make you feel any worse. My saving grace while working in the ER for so many years was my ability to laugh. Sure, the ER is intense and scary, but what better way to cope than to look on the brighter side? Someone might be getting a second chance at life behind those doors!
But if you're getting worse, please make it known. Be specific. If your back now aches from sitting in the chair for so long, that's cheating. But if the pain in your left side has gone from a level "three" to "nine," speak up. If you vomited in the bathroom, don't shout or scream, just let the triage nurse know that your condition is changing and you're concerned.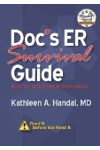 More About this Book
Doc's ER Survival Guide (DocHandal's Guides)
Few people get through life without at least one trip to the emergency room (ER), either as a patient or support person for a family member or friend. Doc's ER Survival Guide is designed to help...
Wait times can be frustrating, but it's important to have patience for those who need immediate attention.
Continue Learning about Critical Care