Here's a list of items you should take to the emergency room (ER)—but please use common sense and don't waste time looking for these items in a medical emergency:
bucket, if nausea present
comfort items, blankets, pillow, teddy bear
insurance card
photo ID card
copy of health history sheet—medical history/medication list
minimized copy of recent EKG
blood pressure log
advance directives, consent to treat minors documents
medical device ID cards and/or manuals
medication bottles (if pocket med card is not available)
contact numbers/cell phone
toys or books for child
pen and paper to take notes
your copy of my Doc's ER Guide
hand sanitizer
coins for vending machines
tissues
More tips for going to the ER include:
Know that ERs can be quite chilly! Last time I was a patient the wall clock showed a temperature of 67 degrees, so bring a sweater or jacket. Yes, you can get a blanket but they are usually in short supply.
Leave patient valuables at home whenever possible!
If the trip is necessary because of poisoning or overdose, be sure to bring the container for the item ingested, if possible.
If a body part is severed, place it in a plastic bag and seal it. Then put the sealed bag in cold water and ice and keep it with the owner!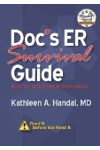 More About this Book
Doc's ER Survival Guide (DocHandal's Guides)
Few people get through life without at least one trip to the emergency room (ER), either as a patient or support person for a family member or friend. Doc's ER Survival Guide is designed to help...
When going to the emergency room (ER), it is very helpful to bring a typed-out list of your current medications, allergies and your current doctors—both primary doctor and any specialists, along with a list of your medical problems. If everyone brought that kind of list with them to the ER, the jobs of healthcare professionals would be much easier.
Patients should bring identification, medication lists, medical history and a family member's contact information to the emergency room.
For a visit to the emergency room (ER) you will need a list of the patient's medications and allergies, and the patient's insurance card and photo ID.
Continue Learning about Critical Care