As the former Chair of a national certification board, I am delighted to respond. Certification, like the CEN designation, refers to an earned credential that demonstrates the holder's specialized knowledge, skills, and experience. Certification is awarded by a third-party, non-governmental entity such as the Emergency Nurses Certification Corporation. Separate from the membership society, certification corporations are created specifically to promote public protection. This is accomplished through strict eligibility criteria and administration of a legally defensible and psychometrically sound exam. Certification candidates, including Certified Emergency Nurses, receive their credential only after meeting strict eligibility criteria and successfully completing a standardized exam. Credentials are nationally recognized and portable, meaning the credential follows the nurse from one organization to another. Professional certification programs include ongoing requirements that must be met to keep the certification current. The recertification process ensures that credential holders have maintained a level of expertise in their specialty and that they participate in activities that support competency in their specialty.

Many emergency room (ER) nurses are certified in emergency nursing. You'll know if your nurse has these credentials if he or she has Certified Emergency Nursing (CEN) or Pediatric Emergency Nursing (CPEN) after their name. Reexamination and continued education is required to maintain these credentials.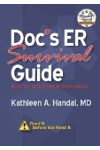 More About this Book
Doc's ER Survival Guide (DocHandal's Guides)
Few people get through life without at least one trip to the emergency room (ER), either as a patient or support person for a family member or friend. Doc's ER Survival Guide is designed to help...
A Certified Emergency Nurse (CEN) is a registered nurse who has successfully completed an examination given by the Board of Certification of Emergency Nursing. Certification is a voluntary process to identify nurses with specialized knowledge in emergency nursing. To remain certified the CEN must participate in a program of specified educational requirement and re-testing as outlined by the Board of Certification of Emergency Nursing
A certified emergency nurse is a registered nurse who has received additional training to care for emergent situations. To become a certified emergency nurse the registered nurse must take a certification test. Passing the test indicates that the registered nurse has acquired advanced knowledge and skills to care for patients in emergency situations.
A certified emergency nurse has studied emergency nursing care and passed a national test that demonstrates the knowledge needed to treat all types of emergency situations.
Continue Learning about Critical Care