Start taking notes upon arrival to the ER. This is for your own reference. A trip to the ER is stressful, and it's easy to miss important information so keep a log of events. Note the names of the people caring for you, what tests were run, the diagnosis, medications and treatment. Time can go slowly and you might think it has been an hour since your blood test, yet when you look at your notes you might see it was done only 25 minutes ago! Remember, you have a right to understand what is being done to you and why.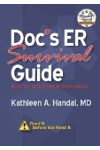 More About this Book
Doc's ER Survival Guide (DocHandal's Guides)
Few people get through life without at least one trip to the emergency room (ER), either as a patient or support person for a family member or friend. Doc's ER Survival Guide is designed to help...
Continue Learning about Critical Care