If a friend or family member is taken to the emergency room (ER), here's what you can do to help.
Appoint one person to serve as liaison between hospital staff and family to minimize the phone calls and conversations with staff.
Stay calm. Don't make a scene.
Describe any pre-hospital changes seen in the patient that the patient might not have mentioned.
Notify the nurse if you notice a change in the patient, such as a change in mental status, sweating or increased weakness.
Don't give the patient anything to eat or drink unless permitted by the nurse.
Don't touch equipment. If a machine starts to beep don't try to stop it. Notify the nurse.
Use your cell phone in designated areas. This will help to ensure your friend's privacy, as well as keeping the noise level down in the treatment area.
Don't plug in any computers, CDs or other electronic devices into hospital electrical outlets. And don't use these devices on battery without checking with the nurse first. There are reports of personal electronic devices interfering with hospital equipment.
Limit and control the number of visitors. Ill and immune compromised family members and friends should stay home and check in by phone instead.
Prevent falls by not allowing the patient to get out of bed without checking with the nurse first.
Respect the patient's privacy and don't repeat what you hear without the patient's agreement.
Stay healthy. Wash your hands often. Use hand sanitizer. Get some rest and eat well-balanced meals. Having an ill or injured family member or friend can be stressful on you.
Advocate for your patient by reminding healthcare workers to wash their hands and wear gloves.
Don't try to help other patients. Notify the nurse or other healthcare provider.
Leave children at home, if possible. Don't let them crawl around on the hospital floor. If that's not possible, clean their hands and toys often.
Stay in one spot so staff can find you.
Respect other people's privacy. If you see someone in the ER that you know, or hear something about someone, don't share that information.
Don't socialize. You're in the ER, not the shopping mall. This is not the time or place to socialize.
Don't empty patient's urinal or emesis basin. Vomit or urine may need to be measured or assessed.
Use restrooms for visitors, not the ones in patient areas.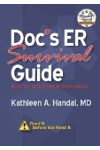 More About this Book
Doc's ER Survival Guide (DocHandal's Guides)
Few people get through life without at least one trip to the emergency room (ER), either as a patient or support person for a family member or friend. Doc's ER Survival Guide is designed to help...
Continue Learning about Critical Care