Most hospitals have phlebotomists; they're the folks who draw the blood and make up the IV team. They're experts at what they do because they do it all the time. In some hospitals, nurses or technicians perform this role, as well. The phlebotomist will assess your arms, looking for a good vein to access. Volunteer a good vein if you know you have one. Finding a good vein may take some time, depending on your age and general health and hydration status. If you're elderly, ill or dehydrated, your veins may not be easy to locate. A pocket transillumination device might be used to help locate a vein. Or the phlebotomist, after tying a band around your upper arm, will tap the veins with his fingers or apply warm compresses. (This is also done when inserting an IV.) Once the vein is accessed and blood is flowing, how many vials of blood are taken depends on the lab tests ordered.

Critical patients have a "rainbow" drawn -- you guessed it, a vial of every color. Different colored tubes indicate different tests. You can always ask the phlebotomist which labs are being drawn. Realize that most tubes are filled by less than a teaspoon of blood. When the needle is removed, apply pressure to the site to stop the bleeding. If you've been on aspirin or blood thinning medication, like Coumadin, you may need to elevate your arm and apply pressure to stop the bleeding. Leave your bandage on while in the ER; it will remind all that you had blood drawn.

If a vein is "blown," that is when the needle goes through both sides of your vein, blood will leak into the skin, and you'll see the start of a bruise. It's important to apply pressure, elevate the site and apply a cold pack immediately. Markings from blood draws can last a week, especially if there is bruising and swelling at the site.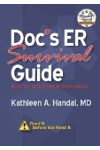 More About this Book
Doc's ER Survival Guide (DocHandal's Guides)
Few people get through life without at least one trip to the emergency room (ER), either as a patient or support person for a family member or friend. Doc's ER Survival Guide is designed to help...
Continue Learning about Critical Care