The emergency department is a vital part of the hospital. It is often the gateway to surgery for trauma patients. Having trained in general surgery at a county hospital, we nightly received both trauma patients and very serious medical conditions that required immediate care for "life or death." Make sure, if possible, you know where the closest Level 1 trauma center is to your home for future use.
When it comes to emergency departments, you'll either need one at some point in the future, or you'll need one ASAP. Pick one while the former is true, while you can make unrushed, educated decision. Not all emergency departments are created equal. The best place to go for a heart attack, however, may not be the best choice to go after a serious auto accident.

Also, when judging the strength of a hospital's emergency department, you're looking for different characteristics that can be a bit intangible at times. That's why you should get the opinions of several people who have set foot in quite a few E.D.s (that's the more modern term for E.R., since most are really emergency departments, not rooms.)

When choosing an emergency department, you should also ask the opinion of some in-the-know people. Your doctor, of course, is number one. Doctors know the scoop on the local emergency departments and where they'd go if their life were in danger. The police officer sitting next to you at the diner counter will likely be a great informant; he's been to all of the emergency departments within 40 miles and watched them deal with everything from aneurysms to tent-stake impalements.

Likewise, a volunteer EMT (emergency medical technician) or a county paramedic could give you an earful on which emergency departments are finely tuned machines—and which ones he wouldn't be caught dead in. Literally.

This knowledge will be worth more to you in a pinch that you can imagine.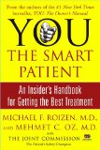 Continue Learning about Critical Care