If excessive weight is lost, then a new problem rears its head: excess skin. In this video, Dr. Oz shares one woman's story of weight loss and excess skin surgery


One of the most important factors here is prevention. It is important that during the weight loss process you include resistance training. Resistance training can come in the form of weights, bands, body weight, kettle bells, medicine balls, etc. Be creative here. Training in a circuit fashion helps to establish a steady heart rate that will continue to burn maximum calories after you finish. Resistance training helps increase the supply/demand for collagen in the body and collagen is what keeps the skin tight.

Also, make sure your diet focuses on those foods that contain MORE nutrients. Look beyond the calorie and fat count here. Fruits and vegetables are true super foods that give far more to the body and younger looking, tighter skin is one of those gifts. Keep your proteins very lean and concentrate them towards the end of the day.

Exfoliate the skin once or twice per week (I use a homemade mixture of plain sugar, olive oil, and lavender) and follow with a good moisturizer containing CoQ10. If you're 6 weeks out from baring some skin, add a daily moisturizer that contains caffeine. This won't fix it for good, but works wonders when you're in a pinch.

Nothing can replace the tight and youthful glow of a clean diet and healthy lifestyle.

For circuit workouts and tightening recipes, check out www.michellecfitness.com
If you have lost a significant amount of weight and have excess skin you may consider a visit to your plastic surgeon. For example, bariatric patients may lose up to half their body weight and have redundant skin from the chest, breast, abdomen, and thighs requiring surgical excision of these area. Operations include mastopexy (breast lift), tummy tuck (abdominoplasty) and arm lift (brachioplasty). Board Certified Plastic Surgeons have the experience, training, and judgement to perform these major surgical procedures.
Depending on how much weight has been lost you may be able to see a nice improvement with a skin tightening treatment such as Thermage, or you may need to see a plastic surgeon to remove the excess skin.
Continue Learning about Cosmetic Surgery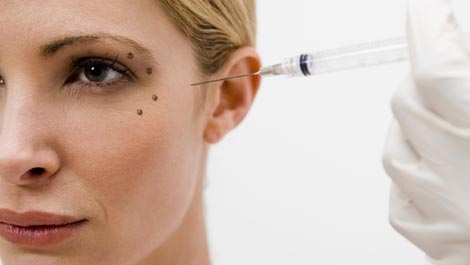 Most cosmetic surgery is done to enhance a persons features or correct disfigurement. With children, the most common procedure corrects a cleft lip or cleft palate. With adults, facelifts, removing baggy skin around the eyelids an...
d remodeling the nose are popular types of plastic surgery. Among women, liposuction and breast augmentation are popular. Growing numbers of men are joining women in opting to have facelifts, tummy tucks, hair transplants and other types of cosmetic surgery.
More