Dermal-fat graft is more durable than other techniques. It has been around for over half a century, and the lip augmentation is simply a new use for an old technique. With dermal-fat grafts, an area of skin somewhere on the body is excised in the shape of an ellipse. The upper skin (epidermis) is removed, leaving the lower level (dermis). The skin is then cut out, keeping a layer of fat attached. The location where the skin was removed is closed as a straight line. Often I remove the skin in a scarred area, in hopes of improving the existing scar, giving a secondary benefit.

The dermal-fat graft is then shaped. For the lips, it is made into a narrow strip. The lips are numbed and tiny incisions are made in the corners on the inside of the lip. A space is made in the lip, under the red lip skin. With a long clamp, the dermal-fat graft is threaded through the lip and the incisions are closed. This type of graft behaves just like any other skin graft. It gets its own blood supply within three days, and becomes part of the lip by three weeks. The percentage of graft that survives should be very high.

Not everyone wants this operation, however. It is most popular in people who already have a scar somewhere. Usually abdominal, back, or buttock scars work well. If your body is scarless, it is unlikely that you will choose to have a five- to seven-centimeter scar created just for this purpose.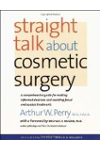 Continue Learning about Cosmetic Surgery