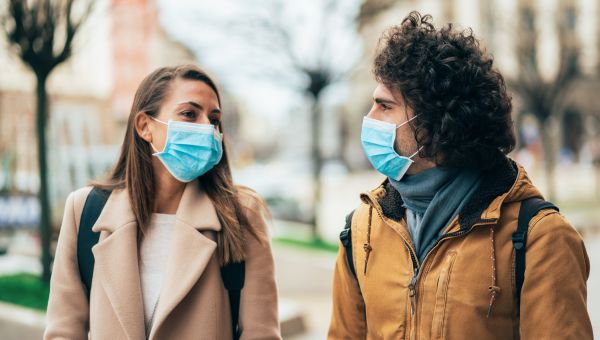 Even those who have recovered from COVID-19 or received a vaccine should still be careful. Here's why.
Updated on January 15, 2021 at 9:30am EST.
More than 30 million doses of the COVID-19 vaccines have been distributed across the United States as of January 14, and more than 9.6 million people have received their first shot, according to the Centers for Disease Control and Prevention (CDC).
The rollout follows unprecedented efforts to develop a safe and effective vaccine in record time. Still, the distribution of the vaccines has been more challenging and slower than expected.
Now, as millions of Americans anxiously await their turn to roll up their sleeves, many are left wondering how and when they can begin to socialize safely again. In some cases, the overwhelming desire for social contact has surpassed safety concerns, particularly among those who've already been infected or have been self-isolating and believe that they are at low risk for either getting COVID or spreading the coronavirus to others.
As of January 14, the CDC reports that more than 22 million people in the United States have recovered from the disease. In some cases, people are using their "recently recovered" status as a ticket to socialize with friends without taking precautions, such as wearing masks and social distancing.
Their rationale: Having just recovered from the disease, they must certainly still have antibodies, which would ensure that they are not only protected but also unable to infect anyone.
Is this really the case? Not exactly.
While these seemingly gray areas could tempt you to open up your social pod or bubble, the answer to these and similar questions is unchanged: Anyone who isn't fully vaccinated—a few weeks after receiving two doses of the COVID-19 vaccine—should still consider themselves at risk for infection.
On the flip side, people who haven't received both doses of the vaccine are still a potential risk to others, including those who've recovered from COVID-19 in the past.
And until the majority of the population is immune, even those who are vaccinated must continue to follow all precautions to prevent spreading the coronavirus to anyone else.
Here's why.
Recovery from COVID isn't a guarantee
You are likely immune for at least some length of time after recovering from COVID-19, but it's unclear how long you'll be protected.
Researchers are still investigating how long antibodies last. People who've had COVID-19 may continue to produce protective antibodies against certain parts of the virus for at least three to four months. Some evidence suggests antibodies may last eight months.
But even if it's been fewer than three months since you've recovered, socializing without a mask is still not okay.
People who've had COVID-19 may have low levels of the coronavirus in their bodies for up to three months, the CDC reports. It's not yet known if those who've recovered—but still have detectable levels of viral RNA—are infectious and pose a risk to others.
It's also possible to get COVID more than once. Reinfection in people who test negative after a recent infection is rare. But the risk is not zero.
Complicating matters, reinfections may be mild. Some people may not develop any symptoms at all and not realize that they are positive for COVID-19. Scientists are also still working to understand how the newly identified strains of the coronavirus may affect the rate of reinfections.
Diagnostic testing is only good for that day
Taking a COVID test on Wednesday and getting a negative result on Friday doesn't mean that you can take off your mask and safely attend an indoor party with friends that night.
If you receive a negative result, it's likely that you were not infected at the time you were tested.
But it's possible for you to be exposed to the virus and become infected in the hours or days after you're tested. That's because molecular diagnostic tests, such as polymerase chain reaction (PCR) tests, take this long to process.
Another type of diagnostic test, called antigen tests, can provide results within minutes. But these tests, which are designed to detect fragments of proteins found on or inside the virus, tend to miss more cases than PCR tests, which look for evidence of genetic material from the virus.
As a result, a negative antigen test result may not be accurate and should be confirmed with a PCR test.
It's also possible to be infected but receive a negative result if you take the test very early on—before the coronavirus is detectable. People can transmit the virus even before they develop symptoms. Some people with COVID-19 never develop symptoms but they can still spread the disease.
So, you still need to be cautious and take steps to protect yourself and others after getting a negative COVID test result.
Prevention guidelines haven't changed
The CDC recently updated its quarantine guidelines, stating that people who have tested positive for COVID-19 within the past 3 months and confirmed their recovery with a follow-up negative test result do not have to quarantine. These people also do not need to get re-tested, unless they develop new symptoms.
But the call for wearing masks and other preventative measures remains unchanged. Everyone, with rare medically necessary exceptions, should continue to cover their mouth and nose in public places or when around other people. This applies to you—even if you've recently recovered.
Wearing a face mask or cloth covering doesn't just protect the people around you from possible exposure to the coronavirus. It helps protect you from the infection as well, the CDC points out.
Even vaccinated people must follow precautions
Being vaccinated doesn't mean you can finally throw caution to the wind. Unfortunately, it's not that simple.
Vaccines can help prevent someone who has been exposed to the coronavirus from getting sick or developing symptoms of COVID-19. But it's still unclear if the vaccines block transmission or prevent someone from carrying the virus and silently spreading it to others.
Research on the vaccines and their ability to block transmission is ongoing.
Additionally, the rollout of the vaccines will take time. It will be many months before everyone who wants to be vaccinated receives their shots.
Moreover, the Pfizer vaccine was shown to be 95 percent effective in clinical trials. The Moderna vaccine was found to be 94.1 percent effective. This means that a small percentage of people may not be protected by them.
Bottom line: We still do not know what kind of immunity a person has after recovering from COVID-19 or how long it will last. And even if recovered people are immune (temporarily), it's unclear if they could still spread the infection.
Until enough of the population is vaccinated and immune to the coronavirus, preventative measures—masks, social distancing, avoiding crowded indoor spaces with poor ventilation and diligent hand hygiene—will still be necessary.
Medically reviewed in January 2021.
Sources:
Centers for Disease Control and Prevention. "CDC COVID Data Tracker." Jan 21, 2021.
Kaiser Family Foundation. "States Try To Pick Up Pace Of Sluggish Vaccine Rollout As Frustrations Mount." Jan 5, 2021.
Jon Cohen. "Dosing debates, transparency issues roil vaccine rollouts." Science. Jan 2021: 109-110.
U.S. Food and Drug Administration. "FDA Statement on Following the Authorized Dosing Schedules for COVID-19 Vaccines." Jan 4, 2021.
U.S. National Institutes of Health. "Two Studies Show COVID-19 Antibodies Persist for Months." Oct 20, 2020.
University of Minnesota: Center for Infectious Disease Research and Policy. "Two studies find that COVID-19 antibodies last 8 months." Dec 23, 2020.
Centers for Disease Control and Prevention. "When You Can be Around Others After You Had or Likely Had COVID-19." Dec 1, 2020.
Centers for Disease Control and Prevention. "Clinical Questions about COVID-19: Questions and Answers." Jan 7, 2021.
U.S. Food and Drug Administration. "Coronavirus Disease 2019 Testing Basics." Nov 6, 2020.
U.S. Food and Drug Administration. "Coronavirus (COVID-19) Update: FDA Authorizes First Antigen Test to Help in the Rapid Detection of the Virus that Causes COVID-19 in Patients." May 9, 2020.
Centers for Disease Control and Prevention. "COVID-19 Testing Overview." Dec 7, 2020.
Centers for Disease Control and Prevention. "How to Protect Yourself & Others." Dec 31, 2020.
Centers for Disease Control and Prevention. "Test for Current Infection." Oct 21, 2020.
Centers for Disease Control and Prevention. "When to Quarantine." Dec 10, 2020.
Centers for Disease Control and Prevention. "Scientific Brief: Community Use of Cloth Masks to Control the Spread of SARS-CoV-2." Nov 20, 2020.
Johns Hopkins Medicine. "COVID-19 Vaccine: What You Need to Know." Dec 23, 2020.
Pfizer. "Pfizer and BioNTech Conclude Phase 3 Study of COVID-19 Vaccine Candidates, Meeting All Primary Efficacy Endpoints." Nov 18, 2020.
Moderna. "Moderna Announces Primary Efficacy Analysis in Phase 3 COVE Study for Its COVID-19 Vaccine Candidate and Filing Today with U.S. FDA for Emergency Use Authorization." Nov 30, 2020.
Centers for Disease Control and Prevention. "What to Expect after Getting a COVID-19 Vaccine. Jan 11, 2021.