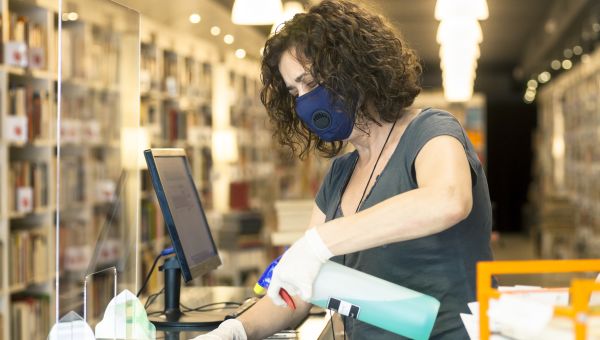 As the number of cases in the United States increases, here's how you can protect yourself and your family.
Updated on March 24, 2020 at 8:15am EST.
After spreading rapidly in other parts of the world, COVID-19 is hitting home. The new coronavirus is spreading rapidly in a growing number of communities across the United States, according to the Centers for Disease Control and Prevention (CDC). This has led to price gouging on medical supplies and the hoarding of everything from hand sanitizer to toilet paper and pasta. Reports of travel restrictions and quarantines may be upsetting, but it's important to remain calm and learn the facts. Being informed can help ease your fears and restore some sense of control over the developing situation.
Why this is happening
Many vaccines are currently in development but there isn't currently a way to immunize people against COVID-19. Since this is a new coronavirus, humans have not developed any natural immunity to it as they have against many other infections. There are also no specific medications to treat the disease, which typically causes a range of respiratory symptoms, including fever, coughing, muscle pain, sore throat and shortness of breath. More rarely, severe cases can lead to more serious complications, such as pneumonia and respiratory failure. Older people and those with pre-existing medical conditions, such as asthma, diabetes and heart disease, are at greater risk of developing severe or fatal infections.
It's important to understand however, that even otherwise healthy younger adults can also develop a more serious infection that requires hospitalization and the use of medical supplies and equipment that are in short supply. In fact, the latest CDC data shows that nearly 40 percent of U.S. patients sick enough to be hospitalized were between 20 and 54-years old. The risk of dying however, is much greater for older people.
As the tally of confirmed cases continues to climb, the number of severe or fatal cases already includes thousands of people. If hospitals and urgent care centers in the U.S. and other parts of the world become burdened with a high volume of patients, the care given to those with severe disease or complications may be compromised amid a dire shortage of essential medical supplies, including ventilators and other life-saving equipment.
Fortunately, most cases are not severe. Many patients are able to recover on their own with supportive care to ease respiratory symptoms. In fact, the World Health Organization estimates that more than 80 percent of those with COVID-19 will develop only a mild infection and recover. It's widely believed that many more mild cases haven't been detected and aren't included in official counts.
Only about 16 percent of cases result in severe illness and complications, including pneumonia and trouble breathing. Fewer still, about 5 percent, will develop very serious issues, including respiratory failure, septic shock and organ failure. As researchers continue to learn more about COVID-19, estimates for its mortality rate range from 0.6 to 3.4 percent. It's important to remember however, that tens of thousands of people around the world have already recovered from the novel coronavirus—far surpassing the number of confirmed deaths.
How to prepare for COVID-19
The global spread of a novel virus is worrisome. But like the flu and other respiratory infections, there is a lot you can do to avoid exposure and reduce your risk of infection.
Researchers believe COVID-19 spreads by droplet transmission and possibly by contact transmission. Contact transmission includes direct exposure to someone who is sick, including shaking hands, hugging or kissing. It can also occur when people touch a contaminated surface and then touch their mouth, nose or eyes.
Contaminated droplets can also escape the body of a sick person when they cough or sneeze, then land in a nearby person's mouth or nose. They can travel about six feet before settling on a nearby surface.
It is not yet clear how long COVID-19 survives on surfaces, but the WHO notes that early evidence suggests it may persist for up to several days, depending on the type of surface and other variables, like temperature and humidity.
That means many of the common-sense steps you already take to avoid the flu and other common germs may help in protecting against COVID-19.
Keep your hands clean
Washing your hands often and thoroughly with soap and water for at least 20 seconds is one of the most effective ways to protect yourself against respiratory illnesses, including COVID-19.
If you don't have access to soap and water, using an alcohol-based hand sanitizer is a good alternative—if you pick the right one and use it frequently and properly.
Choose a hand sanitizer than contains at least 60 percent alcohol, the CDC recommends. Before applying the liquid or gel, remove as much dirt or debris from your hands as possible. Read the product label for instructions and apply as much as directed to ensure its effectiveness. Then, rub the sanitizer over all surfaces of your hands until they are dry.
Be sure that your hands are clean before eating or touching your eyes, mouth or nose, after using the bathroom and while working in the kitchen.
Other precautions to avoid infection
There are some other general precautionary steps you can take to avoid germs, including COVID-19 and the flu:
Practice social distancing, avoid groups or gatherngs and keep at least six feet of space between you and others.
Avoid anyone who is or appears to be sick.
Stay home if you develop symptoms or suspect that you are sick.
Cover your cough or sneeze with an unused tissue, then throw the tissue in the trash. If you don't have a tissue, use your upper sleeve or elbow—not your hands.
Clean and disinfect commonly used objects and surfaces you come into contact with throughout your day, such as computer keyboards, cell phones, doorknobs, faucets and bathroom fixtures with household cleaning sprays or wipes. At work, keep tissues, soap, alcohol-based hand sanitizer and antiseptic wipes on hand. Effective products include diluted household bleach solutions or cleaners with at least 70 percent alcohol as well as most common EPA-registered household disinfectants.
Avoid sharing personal items, such as pens, dishes, utensils, water bottles and drinking glasses. Even at home, it's important to avoid using someone else's fork, spoon or glass. Avoid sharing bedding with other people or pets as well. Used sheets should be washed well with soap and water.
It's also important to do what you can to stay healthy and keep your immune system strong, such as getting quality sleep, following a healthy diet and exercising regularly.
Getting a flu shot is also wise. The CDC points out that the symptoms of COVID-19 are similar to those of the flu, and the current coronavirus outbreak is occurring when flu activity across the U.S. is high. In order to protect against the flu and avoid unnecessary evaluation for COVID-19, everyone age 6 months and older should receive a seasonal flu shot.
What about wearing a facemask?
The use of surgical or other facemasks is not recommended for otherwise healthy people trying to protect themselves against COVID-19, according to the CDC. Masks can be costly, and they are not a foolproof way to prevent infection—especially if they are used incorrectly. Hoarding them or using them unnecessarily could not only give people a false sense of security but also lead to shortages among medical personnel.
To prevent the spread of COVID-19 to others in the community, health officials emphasize that face masks should only be worn by those who develop coronavirus symptoms or have a confirmed diagnosis. Face masks should also be worn by medical personnel or anyone caring for someone who is infected.

Other ways to prepare
Having a plan in place for how you will respond to increasing COVID-19 cases in your area, is also a good idea. First, be sure to consider anyone in your home or general area who is at greater risk for severe infection and complications, including older people and those with underlying chronic health issues. Other steps you can take:
Make a list of local resources that can help you access information, support, medical attention or other essentials.
Have an emergency contact list, which includes family, friends, neighbors, healthcare providers, employers and other essential phone numbers.
Create a "protected space" in your home that can be used to keep household members who are sick isolated from others who are not.
If you think you might be sick
Anyone who believes they may be infected with COVID-19 or might have been exposed to the coronavirus should take immediate steps to isolate themselves and avoid spreading their illness to others.
If you develop any warning signs of infection you should call your health care provider (HCP) for instructions. Before going to a doctor's office or emergency room, be sure to call ahead and inform the medical staff that you may have been exposed to COVID-19. Your HCP will work with your local public health department and the CDC to determine if you need to be tested for the coronavirus.
Medically reviewed in February 2020.
Sources:
Centers for Disease Control and Prevention. "CDC Media Telebriefing: Update on COVID-19."
Centers for Disease Control and Prevention. "Coronavirus Disease 2019 (COVID-19) in the U.S."
Centers for Disease Control and Prevention. "Coronavirus Disease 2019 (COVID-19) Situation Summary."
Centers for Disease Control and Prevention. "Traveler's health: Novel Coronavirus in China."
United Nations. "Coronavirus emergency: here's what we know so far."
World Health Organization. "Q&A on coronaviruses (COVID-19)."
Centers for Disease Control and Prevention. "Coronavirus Disease 2019 (COVID-19): Prevention & Treatment."
Centers for Disease Control and Prevention. "What to Do If You Are Sick With Coronavirus Disease 2019 (COVID-19)."
Centers for Disease Control and Prevention. "Update: Public Health Response to the Coronavirus Disease 2019 Outbreak — United States, February 24, 2020."
Centers for Disease Control and Prevention. "CDC, Washington State Report First COVID-19 Death."
World Health Organization. "WHO Director-General's opening remarks at the media briefing on COVID-19 - 3 March 2020."
Centers for Disease Control and Prevention. "Environmental Cleaning and Disinfection Recommendations"
Centers for Disease Control and Prevention. "Get Your Home Ready."