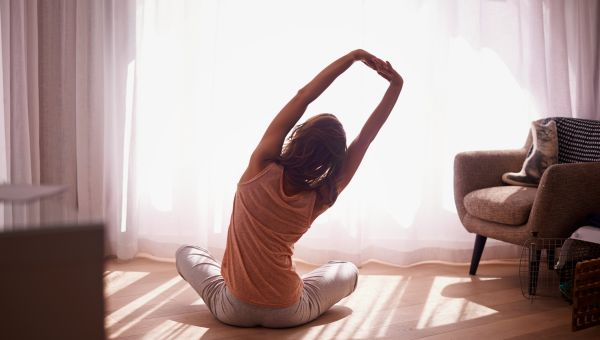 If uncertainty about the future is weighing on you, try these strategies to keep your body and mind strong.
For weeks now, the COVID-19 pandemic has upended the lives of people around the world. Many workers have been laid off or furloughed and parents have been thrust into the role of teacher as millions of students navigate virtual classrooms. Even buying groceries—a once simple task—has become a logistical hurdle to overcome.
If your normal routine already seems like a distant memory, it's easy to let daily self-care fall to the bottom of your priority list. Amid global suffering, making time for yourself may seem like a selfish indulgence.
But being kind to yourself isn't a luxury—it's essential for you and your family, according to Mary Alvord, PhD, a psychologist practicing in Rockville and Chevy Chase, Maryland who is also an adjunct associate professor of psychiatry and behavioral sciences at The George Washington University School of Medicine and Health Sciences in Washington, D.C.
Take a tip from the directions flight attendants give during safety presentations on airplanes: "Make sure you put on your oxygen mask first, so that you have the ability to put the mask on your child," Alvord says.
Try to find gratitude and perspective
The pandemic has forced millions to stay home, with large scale gatherings banned in cities around the world. Sporting events, concerts, parties, weddings, vacations and other things which help keep us motivated and excited for the future have been cancelled or postponed.
After weeks of stay-at-home orders, many Americans are growing increasingly weary and wondering when restrictions will be lifted so local economies can re-open.
But how this pandemic will end isn't yet clear. Government leaders and health officials in the United States and some other parts of world are still grappling with the decision to ease lockdown restrictions—even as the number of new COVID-19 cases in some areas appears to have slowed. Health officials have warned that easing restrictions too quickly before testing capacity has increased could lead to a resurgence of the disease.
Rather than fixate on losses and the uncertainty of what lies ahead, shift your focus to the present—and keep things in perspective, advises Alvord.
Try to appreciate what you have, including things that you normally might take for granted, like electricity and food in the refrigerator, she explains. When reflecting on your day, take a mental note of what went well, just okay or went badly, she adds. Doing so may help you realize that the bad stuff was just part of your day and some good things happened as well, which shouldn't be discounted.
Getting outside can help, according to Alvord. "Being out in the fresh air gives you a different perspective as well," she says. It can "get you out of your head" and shift your thoughts away from troubles or worries." Even if you can't away for a long break and you need to practice social distancing, just a few minutes might do the trick. "Go outside at the top of each hour for five minutes and just walk around," Alvord recommends.
Don't forego all of your healthy habits
The mental and physical strain of the pandemic can make it harder to sleep and to find the energy or motivation to exercise or stick to a healthy diet. Meanwhile, it may be more appealing to indulge in high-calorie comfort foods that are loaded with sugar and salt. You may also try to take the edge off by drinking alcohol. Though tempting, these strategies may do more harm than good.
Exercise can help fight weight gain, boost your mood and improve sleep. Stay-at-home orders may make it more difficult, but there are ways to stay active:
Schedule a daily "silly dance" contest with your family
Take the dog for a 10-minute walk three times a day in your neighborhood
Cut the grass, trim the bushes, weed the flower beds
Go to YouTube to find fitness activities to do while stuck at home
Calm your mind
When your mind races, your breathing speeds up and your pulse rate rises as well, Alvord says. Deep breathing is a good way to calm anxiety and stress. Another option is mindfulness meditation which helps you not catastrophize an already scary situation.
"With mindfulness, you're engaging your senses, focusing on the present rather than the future and also not harping on the past," Alvord says. To demonstrate mindfulness, she does an exercise with a Hershey's chocolate kiss.
First, see the shiny foil wrapper and blue and white ribbon.
As you unwrap the candy, feel the texture of the foil and smell the chocolate.
Finally, pop it in your mouth and let it dissolve on your tongue and enjoy the creamy chocolate taste.
Give the news a break
During this uncertain time, you may be glued to every press conference and latest update about the pandemic. In the era of streaming news and social media, it may be hard to tune out the constant wave of headlines.
Over-consuming COVID-19-related news, however, could take a toll on your psychological and physical health, according to a March review published in Health Psychology. Researchers warned that anxiety caused by repeated media exposure during previous shared traumas, like the 2014 Ebola outbreak in West Africa and the September 11 terrorist attacks, led to increases in cardiovascular disease, post-traumatic stress and fear of the future.
Alvord suggests watching the news no more than two to three times a day and limiting news notifications on your phone.
Stay connected to the people and activities you love
You can't get together with your best friend or distant relative right now, but you can still connect via phone or video chat. Show off your latest kitchen creation, tell jokes or do whatever makes you smile. Connecting is especially important during times of crisis, Alvord says. "We learned a lot from 9/11—the people who fared the best had strong social support."
Meanwhile, carve out some time to do activities that soothe your mind and body. It could be something as simple as taking a bath or listening to music. Or, you could use the time to explore a new hobby, such as knitting or playing a musical instrument.
Be kind to yourself, too—not just others
Most people are simply attempting to survive lockdown—not thrive. Try to be realistic and give yourself a break when you need one.
Don't place undue pressure on yourself to be perfect, to learn anything new or to maintain the same level of productiveness and efficiency as you would under more normal circumstances.
Medically reviewed in April 2020.
Sources:
Dana Rose Garfin, Roxanne Cohen Silver, Alison E. Holman. "The novel coronavirus (COVID-2019) outbreak: Amplification of Public Health Consequences by Media Exposure." Health Psychology. Mar 23, 2020,
Johns Hopkins Medicine. "Coronavirus: Practicing Wellness While You Stay at Home."
Academy of Nutrition and Dietetics. "Support Your Health With Nutrition."
Harvard Medical School. "Sleep and Mental health."
Child Mind Institute. "Self-Care in the Time of Coronavirus."
United Nations. "UN health agency working on strategies to gradually lift COVID-19 restrictions."
D Sarkar, MK Jung, HJ Wang. "Alcohol and the Immune System." Alcohol Research. 2015;37(2):153–155.
National Sleep Foundation. "How Alcohol Affects the Quality—And Quantity—Of Sleep."
National Institute on Alcohol Abuse and Alcoholism. "Alcohol's Interactions With Circadian Rhythms."
UpToDate. "Overview of the risks and benefits of alcohol consumption."