Our feet do change considerably as we age, and for women, as we have children. They get both longer and wider. Let the shoe clerk measure both of your feet while you are standing. You may be surprised at your new size. Also, many exercise shoes come in multiple widths per length. Aging causes the most problems with the front (forefoot) of the foot, including pain (metatarsalgia) and bunions. This makes the width and height of the front of the shoe key. Even if the clerk measures your foot and brings out that size, if it doesn't fit correctly, experiment until you find one that does. Shoe sizing varies per company. If your feet measured different sizes, begin trying on the bigger size.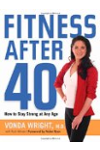 More About this Book
Fitness After 40: How to Stay Strong at Any Age
It's one of the undeniable facts of life. After we reach a certain age, our bodies change. No matter how fit we may have been at 20, we're very different people after 40. But growing older doesn't...
Continue Learning about Corns, Calluses & Bunions