It is very important not to overcook vegetables. Overcooking will not only result in the loss of important nutrients, it will also drain the flavor. Light steaming, baking, and quick stir frying are the best ways to cook vegetables. Do not boil vegetables unless you are making soup, as much of the nutrients will leach into the water.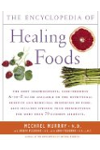 More About this Book
Encyclopedia of Healing Foods
From the bestselling authors of The Encyclopedia of Natural Medicine, the most comprehensive and practical guide available to the nutritional benefits and medicinal properties of virtually everything...
Continue Learning about Cooking & Health