You can serve cherries in the following ways:
Enhance the flavor of cooked cherries by adding a few drops of almond extract, a little cinnamon, or some slivers of orange or lemon zest.
Try cherry rather than strawberry shortcake: Halve a low-fat angel food cake and layer with sliced sweet cherries and vanilla yogurt.
Top plain or frozen yogurt with pitted cherries and serve as is or blend in your food processor for a sweet, yet healthful smoothie.
Use either pitted sweet or sour cherries to make chilled cherry soup: Cook the cherries in water and fruit juice or wine (2 cups liquid to 1 cup fruit). Simmer just until fruit is soft, then pure, sweeten with honey to taste, and chill. Serve topped with a dollop of plain yogurt.
Make your own chocolate-covered cherries: Wash and thoroughly dry cherries, as the least bit of moisture will result in lumpy chocolate. Melt chocolate in a double boiler, dip in the cherries to cover, and set 1 inch apart on a waxed paper covered baking sheet. Refrigerate until the chocolate has hardened.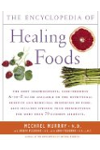 More About this Book
Encyclopedia of Healing Foods
From the bestselling authors of The Encyclopedia of Natural Medicine, the most comprehensive and practical guide available to the nutritional benefits and medicinal properties of virtually everything...
Continue Learning about Cooking & Health